Email and phone surveying
Ensure a high response rate and consistent professionalism with proactive outreach and a dedicated team of survey professionals.
Our combination of phone and email surveying yields a 60-70% response rate and results in more candid and comment-rich homeowner feedback.
"Quality Home Products of Texas is a company that is focused on the Customer Experience from the initial contact to the follow-up after the installation, so feedback is absolutely the most important part in making this a reality. We first sought out GuildQuality for this purpose, we wanted to know what our clients were feeling in regards to their experience with us."
Customer data integrations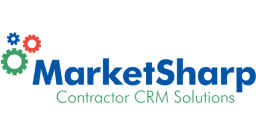 Sync your customer data in bulk from a variety of sources, including QuickBooks, Salesforce, Google Sheets, and more.
You can also use our API to send and receive customer data to whatever tool and in whatever format you need.
"GuildQuality surveys provide us with valuable feedback from our customers. Because it is initiated by a third party, we feel like our customers are more open and honest with their responses. It is a great service that allows us to constantly look at how we are interacting with our customers and it helps us identify areas where we can improve."
Smart + custom survey questions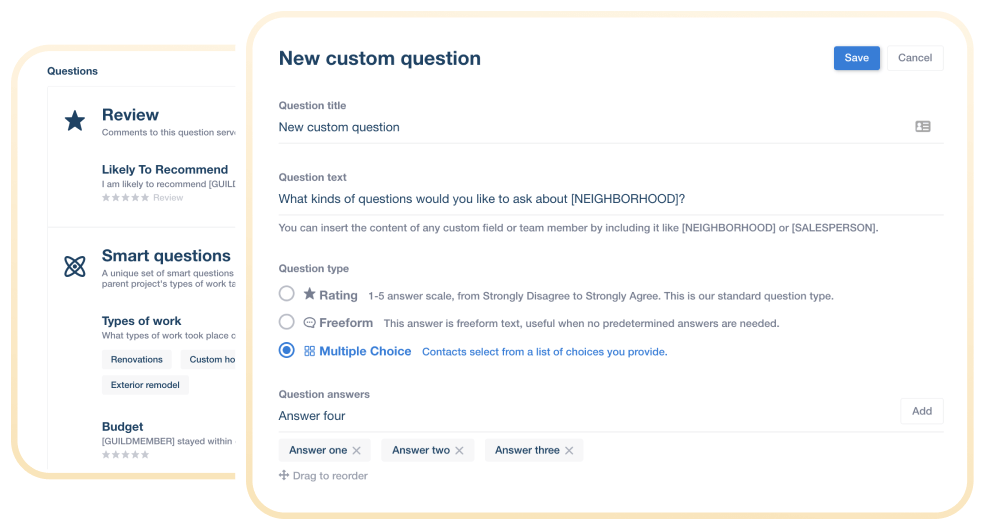 Although we've designed our surveys to automatically select the best questions to ask your customers based on project type (e.g. new siding), our surveys are completely customizable.
You can add your own multiple choice, rating, and freeform questions, giving you the ability to capure exactly the kind of feedback you're looking for.
"GuildQuality customer satisfaction works hand-in-hand with JP Roofing and Owens Corning. GuildQuality customer satisfaction is what we strive for today. How it has helped us move forward and raise our level of business of who we are and where we stand today means so much to us as a company. I have always strived on customer satisfaction, and when I became a preferred contractor with Owens Corning, the third-party GuildQuality was part of what I have always wanted. It made it complete for the type of work we do. The customer surveys really sprung us forward in business."
Continue exploring our product
Over 3,000 of the best home builders, remodelers, and home service providers trust GuildQuality to help them grow their business
Sign up today