Boardwalk Builders
37395 Martin St
⋅
Rehoboth Beach
,
DE
19971
⋅
(302) 227-5754
Company History
Founded in Rehoboth Beach, Delaware in 1986, Boardwalk Builders has earned a reputation for excellence and is recognized as one of the premier remodelers and custom home builders along the Delaware Shore. President Patty McDaniel became the sole owner of the company in 1995, and under her direction the company has grown considerably, due largely in part to her dedication to the highest-quality service, standards and workmanship. As a result of McDaniel's commitment to total quality management practices and processes, Boardwalk Builders was awarded the 2004 National Housing Quality Silver Award for Excellence in Remodeling. (more)
---
Customer Feedback Summary
Of 40 customers surveyed, 30 responded (75%)
Employees & Subcontractors
---
Reviews & Comments
---
review

Robert G.

Georgetown, DE

Feb 04, 2014

Boardwalk Builders

The finished bath is everything we had hoped it would be. When we first met, Patty McDaniel, owner and founder of Boardwalk Builders, asked what was most important to me regarding the project. I responded, "quality workmanship." She certainly gave us that. Patty's lead carpenter, Ed, supervised the work. his concern and coordination efforts have been fantastic throughout the project. When the framing and rough plumbing were completed, I was certain we would get what we expected. And then it got better. The trey ceiling; custom vanity; tile and granite work; painting, lighting and glass are perfect. These features and Boardwalk's craftsmanship gave us the simple but elegant bathroom we envisioned. Bob Grasso

review

Bunk M.

Rehoboth Beach, DE

Oct 29, 2013

Boardwalk Builders

Boardwalk Builders from their planning to delivery are knowledgeable, committed and excel at attention to detail. Everyone including sub contractors are professional, courteous and respectful.

review

Christine P.

Rehoboth Beach, DE

Oct 15, 2013

Boardwalk Builders

Boardwalk Builders provided quality products and craftsmanship throughout entire project all within my budget. They always responded quickly to my questions or requests. They are an ideal company to use for small projects or total house renovations.

review

Mark S.

Millsboro, DE

Oct 15, 2013

Boardwalk Builders

Communication was good, however, the lead carpenter left the job and had helpers do final trim which was rough at best. When he came back to fix the problems, he was pulled back off for another job. He came back the following week and finished. Final fit was less than I expected.

review

James P.

Ocean View, DE

Oct 10, 2013

Boardwalk Builders

We are very happy that we chose Boardwalk Builders to do our new sunroom. They incorporated all the features that we asked for and addressed all our concerns. The workers were outstanding. We were always well informed of the progress made and what was coming next. Thanks for a job well done.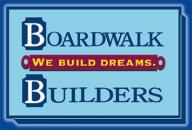 Types of Work
Custom home (22)
Historic restoration (22)
Kitchen remodel (2)
Bathroom remodel (1)
Deck (1)
Storm damage restoration (1)
Recent Activity
2/19/14 Boardwalk Builders received feedback from a customer in Rehoboth Beach, DE.
2/14/14 Boardwalk Builders received feedback from a customer in Rehoboth Beach, DE.
2/09/14 Boardwalk Builders received feedback from a customer in Lewes, DE.
2/04/14 Boardwalk Builders received feedback from 2 customers.
2/04/14 Boardwalk Builders received feedback from a customer in Lewes, DE.
More about Boardwalk Builders
As a GuildQuality Guildmember, Boardwalk Builders relies on our customer surveying to help them deliver an exceptional customer experience.
We have surveyed customers on behalf of Boardwalk Builders in Rehoboth Beach, DE; Lewes, DE; Bethany Beach, DE; Georgetown, DE; Milton, DE; Dagsboro, DE; Ocean View, DE; Harbeson, DE; S. Bethany Beach, DE; and Millsboro, DE..
In this report, Boardwalk Builders has published a summary of the customer feedback they've received in the past 12 months. In that time, 30 out of 40 customers (75%) responded to a GuildQuality satisfaction survey, with the most recent response in February 2014.
2014 Guildmaster Application
Boardwalk Builders is a candidate for a 2014 Guildmaster Award. The Guildmaster Awards recognize exemplary service among home builders, remodelers, developers, and home services contractors. Click here to review this year's qualifications.

To be eligible for consideration, Boardwalk Builders must survey all of their customers, with the following exceptions: We have about 6-7 projects that completed at year end – just 3 weeks ago. Normally we would wait a month just to be sure no punch list items come up..

If you are a recent customer of Boardwalk Builders and have not yet received a customer satisfaction survey, please let us know. We need your feedback in order to conduct a thorough review of Boardwalk Builders's application.