Champion Windows of Wichita
Started in 1953, Champion Window, Door and Patio Room Company is one of the nation's leading home improvement companies. Champion builds and installs vinyl replacement windows, entry doors, patio rooms and siding, with more than 45,000 homeowners joining the ranks of customers on an annual basis. Champion's energy-efficient products help consumers save money on their utility bills year-round. Champion's control over every aspect of manufacturing, distribution, installation and servicing provides a single source of accountability for its customers, removing all concerns about who is responsible for their home improvement project. The company operates factories in Cincinnati, Ohio, and Denver, Colo.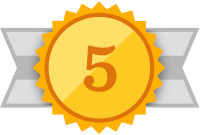 5 Consecutive Great Reviews
Comments
What is this?
What is this?
We display two types of written homeowner feedback on GuildQuality member profile pages: Comments and Reviews.
Comments
In response to our customer satisfaction surveys, homeowners share lots of comments about construction quality, communication, or any other question asked in the survey. Guildmembers can selectively publish these comments here on their profile page.
Reviews
Reviews are different than comments. These are star ratings that homeowners ask us to publish, and they come with a written description of the type of experience they had working with their contractor. We publish all of the reviews we receive: positive and negative alike.
View all
"Recognize Excellence"

comment from Wichita, KS
Nov 05, 2014
I would like to recognize Steve, he was very much on the ball. I would also like to recognize the young lady who worked the counter, she was always very courteous and quick to help when I went in to make deposits.
"Area Of Satisfaction"

comment from St John, KS
Nov 05, 2014
They were efficient, sell a good product, and the installation was great.
"Recognize Excellence"

comment from Wichita, KS
Nov 05, 2014
Robert and the two other workers were fantastic, polite, and kind.
More Comments
GuildQuality
Angie's List
Better Business Bureau In Nebraska, South Dakota, The Kansas Plains and Southwest Iowa
GAF Master Elite Roofing Contractor
Good Housekeeping Seal of Approval
More about Champion Windows of Wichita
As a GuildQuality Guildmember, Champion Windows of Wichita relies on our customer surveying to help them deliver an exceptional customer experience.
We have surveyed customers on behalf of Champion Windows of Wichita in Wichita, KS; Derby, KS; Haysville, KS; El Dorado, KS; Salina, KS; Valley Center, KS; Mulvane, KS; Augusta, KS; Newton, KS; Hutchinson, KS; and 61 other cities in Kansas and Oklahoma.
In this report, Champion Windows of Wichita has published a summary of the customer feedback they've received since they joined GuildQuality in February 2012. In that time, 310 out of 500 customers (62%) responded to a GuildQuality satisfaction survey, with the most recent response in February 2016.
2016 Guildmaster Application
Champion Windows of Wichita is a candidate for a 2016 Guildmaster Award. The Guildmaster Awards recognize exemplary service among home builders, remodelers, developers, and home services contractors. Click here to review this year's qualifications.

To be eligible for consideration, Champion Windows of Wichita must survey all of their customers.

If you are a recent customer of Champion Windows of Wichita and have not yet received a customer satisfaction survey, please let us know. We need your feedback in order to conduct a thorough review of Champion Windows of Wichita's application.