Intelligence
2012 First Quarter Market Predictions & Strategies
March 30th, 2012 by
"Wall Street indices predicted nine out of the last five recessions!" – Paul A. Samuelson
(A wordle of every comment provided in the survey)
This report contains a summary of the feedback received from our members in the Q1 2012 Market Predictions Survey conducted from March 22 to March 29. This survey is a continuation of the survey we began in October 2008. In this and prior surveys, GuildQuality requested feedback from the owners and operators among our hundreds of home builders, remodelers, contractors, and real estate developers that use our service. In each of the surveys, more than 100 people have provided feedback. 164 of our builders, remodelers, developers, and home services contractors responded to the 1st quarter survey.
What kind of change do you expect in THE MARKET over the next six months?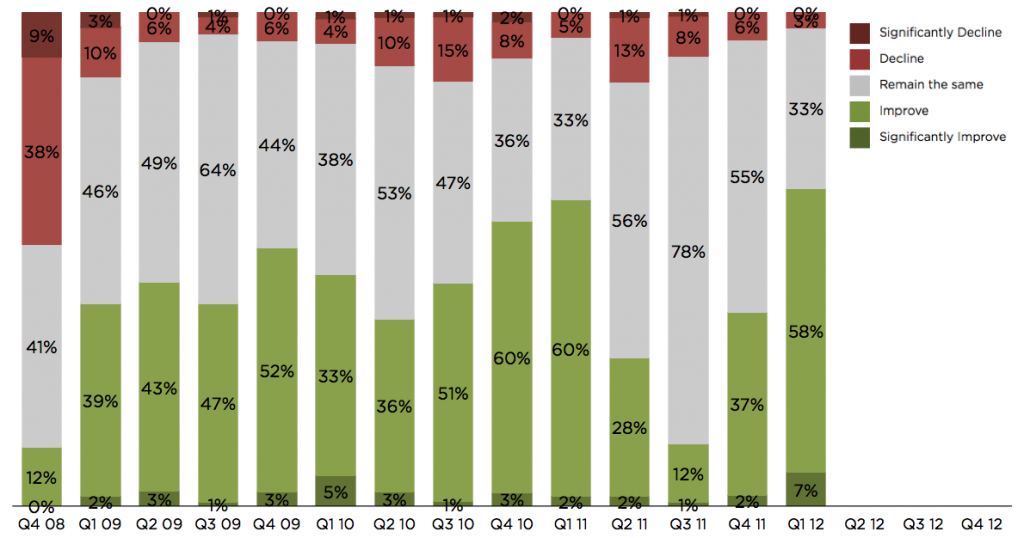 What change do you expect in YOUR COMPANY PERFORMANCE over the next six months?
It's worth remembering that this is what people expect to happen in the near future. 3% anticipate the real estate and construction market will be worse six months from now; 65% forecast improvement.
Spring — aka the Selling Season — arrived on March 20, and we see our members' confidence blooming along with the tulips and daffodils.
Three quarters ago, we began asking members to rate the current state of the market, in addition to their predictions about whether or not things would improve in the future. Here's their Q1 2012 assessment, along with their feedback from Q3 and Q4 of 2011.
How would you describe the current state of the market?
Every other quarter, we ask our members to share their observations and strategies for success. Here are their unexpurgated comments (along with a wordle cloud for each question's answers):
What is your business doing to address your most pressing NEAR-TERM challenges?
Actively seeking and asking for referrals and introductions from clients and our strategic alliance partners. Improved prospecting strategy and tactics. Implemented sales training and sales systems. Training and empowering our entire company team to be aware and alert to opportunities to better serve our existing clients and understand their important roles in the sales process.

Adding more included features and opening a community where homes are in the $120's to attract people renting.

Becoming more efficient by embracing technology to replace paperwork.

Better communication between our customers and between our employees.

Better customer service.

Bidding homes smaller than usual Bidding remodeling jobs we wouldn't consider 4 years ago Squeezing subcontractor pricing Reducing profit margins Cutting non-critical costs.

Building homes.

Buying more land.

Cash flow, trying to improve.

Concentrating on Sales leads.

Continuing our good relationships with clients and continuing our good quality workmanship.

Continuing to be very selective in terms of hiring.

Controlling costs – health and material. Actively negotiating. Trying to place all installs into a package. Staying on top of new government regulations takes a lot of time and costs way too much to comply. Most new regulations are silly, wasteful and do not believe in or support personal responsibility.

Cost-cutting wherever possible.

Developing an energy auditing division to be followed by a home maintenance program.

Developing strategy to overcome specific objections.

Different types of marketing, focusing on customer service and referral.

Diversifying our offered services.

Dramatic improvement in service quality & facility cleanliness.

Educate clients, provide them with information not sales talk.

Emphasizing customer service and accountability to justify fair pricing in a downward pressure pricing market.

Expanding into new markets, and diversifying product.

Factoring in big incentives, focusing on single level homes on big lots, putting in options that customers want and eliminating options that don't have a lot of "bang for the buck".

Focus on customer service and quality and not get sucked into the trenches of pricing.

Focusing on increasing sales.

Focusing on marketing.

Focusing on service and communication.

Functional and less glitz.

Getting more leads.

Getting out into the community to keep the leads flowing in.

Hire additional staff.

Hire the best – provide a product that is different, in demand and better than the rest.

Hiring.

Hiring additional sales people.

Hiring additional sub-contract support to meet increased production requirements. Returning employee pay to pre-recession levels and re-instituting bonus programs to reward key personnel for good work. Not hiring additional employees until confident that the current upturn in the remodeling market is long term.

Hiring an operations staff to assist with customer demands.

Hiring skilled labor.

Hiring.

Home shows, direct mail and door hangers as well as focused advertising. Also working our existing user base.
I'm becoming more proactive with networking to try to generate leads.

Improvement in generating more leads by special offers, seeking more buyers by expanding our marketing into home shows and pinpointing direct mailings to areas around completed projects.

Improving financing, increasing services.

Improving our business processes and increasing our marketing dollars to drive more traffic.

Increase marketing. breaking traditional rules, targeting market more specifically.

Increased advertising.

Increasing marketing efforts that address the consumers frustrations about the custom homebuilding process.
Increasing our for-sale home marketing.

Investing in our design staff.

Just had a tornado rip through 2 sub divisions in our town last week…30 new projects ranging from re-roof/re-side to rebuild portions of houses

Keeping effective marketing in place.

Leads are our most pressing challenge and we are constantly testing new offers.

Lots of networking.

Managing costs and protecting gross margins.

Managing personnel closely, increase marketing.

Manufacturer support.

Marketing and quality control.

Marketing is our mission to drive leads.

Marketing the Home Show and Partnering.

Marketing! creation of a new position titled business development manager.

More advertising, more contacts with old clients.

More focused marketing.

More involved in direct marketing tactics for lead generation. Keeping overhead low and quality high is helping us meet the value/dollar trend.

More marketing.

More marketing, whole website redesign.

Offering price drops in a non-slimy way. Offering incentives for committing by the end of the month. Trying to promote the quality of customer satisfaction ratings. Try to generate more referrals.

Presenting options, multiple options.

Pricing lower and improving cost structure.

Promoting public participation events….traffic in development however you can get it…..got to have activity for the public to be attracted to your offering.

Pushing forward with current job inquiries to move them along faster. Downsizing the company. Reducing overhead costs as much as possible.

Quality control, addressing loan to value ratios for adequate financing.

Raising additional capital.

Ramped up marketing to past clients, architects and interior designers.

Rebuilding website, engaging in more social media avenues, increasing web presence.

Recruiting more salesmen, focusing on production challenges and reducing AR times.

Redoing our web present and starting more on line marketing.

Re-doing the web page to maximize hits and callbacks.

Redrafting our proposals to discuss alternatives right up front, thru the final contract signing. giving them options early and often so they can customize the project to their specifications.

Reducing debt and focusing on cash flow.

Reducing overhead.

Refining marketing and sales procedures to maximize each lead.

Renovations and improvements to the facility.

Replacing a C performing sales rep with an A performer.

Sales!!!! Getting clients aligned with realistic budgets.

Scary to say, but not too many most pressing near-term challenges.

Searching for working capital.

SEO.

Smiling and staying positive.

Spend more money on marketing.

Still working lean, afraid to invest in employees and overhead, until the pipeline is full of projects.

Taking on new product lines. No expanding like we planned to in 2009.

The biggest challenge is lead generation, everything is costly, and not very effective, we are doing more face to face marketing.

Trying to increase margins by renegotiating with subs and vendors; actively acquiring new lot inventory at low prices while we can — the deals are going away fast!

Trying to maintain our current pricing structures, and offer free upgrades with purchase.

Trying to remain price competitive.

Updating our sales process for a more modern, customer centered presentation that is focused on the customer's needs and values.

Upgrading tools and infrastructure to address the expected rise in business through the balance of 2012.

We are about to launch a brand new web site: www.21stCenturyBuildingCompany.com ; It was supposed to launch in December, but the priority is to get it right, detailed, and an engaging experience for the visitor is VERY time-consuming. It took 6 months to decide on who would rebuild our 10 year old web site, then another 4+ months to do the redesign – I never thought it would take SO much time and effort. The next near-term challenge will be to be sure that the web site is drawing attention and appointments for our company.

We are building smaller less expensive homes.

We are constantly networking, expanding our data base for e-marketing, and asking for referrals.

We are customizing our stock plans slightly.

We are doing more social media and digital marketing, e-Newsletters and working hard to follow up with prospects and customers with Thank-You Cards.

We are focusing on customer service to keep the clients we have and get referrals.

We are focusing on our core client base and our core values such as honesty, integrity, high quality work and customer satisfaction.

We are hiring to try to anticipate growth.

We are looking to streamline the product selection process.

We are replacing our installation manager who is not doing a very good job.

We are trying to get more organized in procedures and policies

We are working harder than ever to develop leads and gain referrals.

We are working on a complete reintroduction of our brand and position in the market.

We continue to sell ourselves on being a very high end builder, but also on being a great value!

We have already made significant overhead adjustments, including layoffs.

We have excellent training for our sales reps and canvassers. They are extremely knowledgeable for our customers so they know the inside and out of the product they are buying.

We have hired a coach to keep us on track. Doing more cross marketing and advertizing.

We have increased the amount spent on marketing and advertising.

We just face each challenge as it presents itself and then at the same time look at how we need to address it for the long term. We feel that if things are working we don't need to mess with them unless the need arises.

We've made some major financial decisions and have consolidated on our overhead costs. We are doing what we need to survive.

Work with a designer. Don't do work types that don't make money.

Working hard to keep up with all the demands.

Working longer hours. Investing in new design software. Pushing more off onto subs and suppliers. Developing better estimating methods based upon actual job histories.

Working on as tight a budget as possible. working lean and trying to compete in a suppressed market.

Working on getting more referral work.

Working on marketing, monitoring the budget, and keeping an eye on consumer confidence.

Working with less until we see a dramatic change. Looking to hire but proceeding cautiously.
What is your business doing to increase your likelihood of success in the LONG-TERM?
"Relationship Selling".

#1 is staying around to fight another day. I am marketing the company heavily, emphasizing our ability to adapt, and change with the demands of the market. Working more green and encouraging clients to think green building not just green $.

Adding on to our office for a better working environment. Creating a design center, a conference room, a showplace kitchen that we can use and show clients as well as additional offices, parking, etc.

Adding sales staff and training them better.

After 34 years we just keep a close eye on trends and manage our cash.

Aggressive land acquisition to shore up lot supply.

Being better at everything.

Besides the new web site, keeping all of our memberships up to date, setting up a referral system to visit with neighbors of our job sites and generate sales appointments that way. Sometimes a potential customer will take a flyer (professional, full-color, handed in person whenever possible) and call us 6 months or a year later.

Branding our company.

Building a sales team to sell homes.

Building CRM and referral data basis increase advertising on line.

Building multiple budgets, expanding staff and moving to largest location.

Building showroom and catering to clients schedules.

Building stronger relationships with customers and maintaining the best employee workforce.

Buy more land.

Buying more land.

Buying out failing companies.

Changing our marketing ideas and doing more subcontract work in the commercial side of things.

Community work.

Consistent, measured marketing.

Constant self-evaluation, constant communication and discussions of these things, trying to see what's coming ahead and turning quickly to adjust to it with minimal negative impact.

Continuing to expand and improve our web presence.

Customer satisfaction, long term marketing plan.

Cut down on overhead and attempt to maintain sales goals year after year until we see improvement. Also offering more products to off-set the cyclical seasons.

Cutting back on expenses. Negotiating with suppliers better. Getting up extra early on election day to vote.

Dedicated marketing staff to capture niche markets as well as explore new markets.

Deliver happiness.

Developing strong messages and developing a better sales force.

Diversity in product offerings.

Doing more marketing than in the past, networking is huge, participating in the Home builders parade of home yearly events.

Doubling down on our core values and increasing advertisement.

Establishing a satellite showroom on other side of city to increase our exposure. We are also reducing/controlling debt. If the US continues on the same path, our economy will decline. Since we are consumer driven, I'm afraid that if we have debt, we will go out of business.

Expanding our client base, research on how to expand services offered.

Expanding to another city.

Finding new subs Permanently adjusting to lower profit margins.

Focus on service, quality, and relationships with customers.

Focusing more heavily on marketing.

Focusing on becoming the 'Home Improvement Company of Choice' in Austin and the surrounding communities.

Focusing on marketing and overhead.

Generally overhauling the marketing and sales efforts.

Good design in every part of the development, don't sell out for the quick buck that results in compromise on your long term plan, make sure you are listening to what the shopping public is asking for & respond, don't assume old rules work in the future,

Hired a full-time Marketing Manager to address web presence, SEO activities, and all other aspects of marketing the business. Utilizing call-to-actions on the website, upgrading the website, and providing better/more printed materials at trade shows. Targeting new homeowners in our target market area.

Hiring.

Hiring design and field personnel. Investing in marketing and brand-building efforts to target the top 20% of the market. Narrowing our geographic reach. Continuous improvement program aimed at policies and procedures.

Improvement on customer service and warranty.

Improving our basics and watching our overheads costs.

Improving our processes and also our marketing.

In addition to working hard on sales, we are hiring more people to help us reach our goals.

Increased marketing and branding efforts. Revamp website.

Increasing marketing and cutting expenses that we can go without for the time being.

Increasing professionalism and fine-tuning sales methods.

Investing in infrastructure, better personnel, and training existing.

It will be important to stay on top of prospects to keep things moving towards a positive conclusion. as always it will be critical to keep job costs in line to salvage already thin margins.

Keep doing what we are doing. The weaker companies are still dropping out of the market.

Keeping overhead low is critical to surviving this economic situation.

Limited overhead, exceeding expectations (not over-selling or committing), not getting too greedy (stay strong with the areas you are an expert in, don't try to be the remodeler of all things).

Looking at new models for achieving results at lower prices while retaining margins.

Looking for places to expand, and diversifying our company.

Lowering our operating cost without lowering the quality of our installations and follow-up service.

Maintaining relationships with customers, maintaining warranties and service options, continue advertisement.

Maintaining sales skills, client satisfaction on each project, effective marketing.

Making strategic lot acquisitions, hiring talented employees at modest salaries.

Marketing.

Marketing.

Monitoring the wins and loss and improving on the loss to bring a good experience to the client.

More advertising.

More aggressive presence on social media. Better email newsletter with less attention to Facebook.

More contact with the client, added service dept, increase staffing.

More Marketing.

My business needs to have a great relationship with its employees.

Networking, process improvement.

Networking, staying active in the community, increasing our marketing dollars.

New strategic alliances, new strategic plan.

Once again preparing a five year plan for the business. For the past several years, we have only been forecasting on an annual basis in light of uncertainty in the market and our inability to put any faith in a plan extending more than 12 months into the future.

Our reputation is critical to the success of our business. Customer feedback and surveys provided by GuildQuality have been a great source of information. Our quality program along with our high level of customer service are all critical to our continued success.

Perfecting our custom home business. Being able to build on a production schedule and budget while also offering customization.

Providing home maintenance services to our past clients.

Quality control and procedure.

Quality work, listen to customers, hiring a dedicated marketing person next week.

Reducing costs.

Reducing overhead and keeping at a minimum. Contact with past clients Focused marketing.

Renovations and improvements to the facility as well as improved customer service and better upper management.

Re-thinking our processes and streamlining so that growth can be achieved with more efficient overhead structure.

Revamping our marketing process.

Same tings that we've done to remain profitable and growing during this recession all along. Good systems, good service and great team attitude with all being accountable.

Spending more in advertising.

Started a commercial contracting division last year and are starting to invest in lots and infill properties.

Staying Alive.

Staying solid.

Strategic planning in conjunction with a refreshed marketing effort.

Strategic planning to stay ahead of the market.

Streamlining systems.

Strengthening the awareness of our Builders Guild to the home-buying market.

The same as above but also reaching out into the community to increase our market share..

Training employees about customer service.

Try to become leaner and easier to do business with. Also more hand holding for customer.

Trying to get market share.

Trying to maintain low overhead and we are approaching all unnecessary expenditures cautiously.

Trying to maintain our current pricing structures, and offer free upgrades with purchase.

Trying to turn a profit with an emphasis on trying.

Updating our website to be more solution oriented and easier to navigate.

Using technology to make our job easier as well as the customers experience.

We are a family owned and operated business and we treat our employees and customers like family. We also have the best product and warranties to offer our customers.

We are a lean machine, running on all cylinders with a little in reserve.

We are building a new website to expand both the quantity and quality of are leads. We are improving our branding through new sales and marketing processes.

We are building lower price homes.

We are carefully hiring and making sure our systems are in place.

We are evaluating our staffing needs given the current increase in demand & sales to determine when to bring some one else on board to handle the additional work load.

We are intent on remaining visible–through print and radio advertising, by volunteering in the community, by collaborating with our trade contractors, and by continuing our own education in the areas of personal development and leadership training. We have also diversified over the past two years and have a clear vision of what expansion and consolidation look like as we move forward.

We are not just saying this but promoting our quality of service, which is our strong suit, and using GuildQuality as a promotion feature has been a very successful long-term benefit as well as what was stated in item 9. We also updated our logo and website and are adding things such as social media opportunities to keep up with the changing times. This is a long-term and continually changing process.

We are on our way to becoming a certified aging in place specialist (CAPS) so we can do more work within this segment of the market.

We are trying to diversify and look for opportunities outside of our local area.

We are trying to hit different areas of the market.

We have become more organized, efficient and more customer service oriented.

We have identified other locations within our region and are working on opening at least one and possibly two new locations within 10 to 20 miles of our present location.

We have increased the amount of money spent on marketing and advertising. We are going to hire a marketing manager.

We think our marketing efforts will have a long term success.

Web site changes, social media, trade shows.

We're investing more time, energy and awareness in our Team's development, internal systems and communication.

Working from home office to reduce overhead. Diversifying types of advertising to reach different markets. Exhibiting in the Atlanta Home Show.

Working smarter, streamlining our systems, tracking and measuring advertizing and marketing. Projecting sales, hired a full time marketing person.

Working with sales staff to become better at keeping a connection with there customers.
What trends are becoming less and less important to your customers?
2 story foyer, size of homes and additions are shrinking.

Actual price is seeming to move away from being #1 concern again. People are again looking for quality relationship again.

Added value to home.

Additions.

All of the higher end features of most products and services are not important to customers anymore. I hear the work functional more than ever.

Always going with the lowest price. The customers are beginning to see that this only costs them more money later on.

Bath tubs.

Big full scale whole house remodels.

Big spaces.

Big, Large, Flashy.

Ceramic tile isn't so popular anymore; Standard 3-tab shingles rarely selected anymore.

Cheap.

Company history.

Convenience seems less important relative to value.

Convenience; Instant gratification.

Dining Room, Master Tubs, Fireplaces.

Dining Rooms and Theatre rooms.

Doing a whole job, only doing what is necessary.

Energy efficiency.

Enormous sizes.

Exceeding the value of theirs home when remodeling.

Expanding their living space. Homeowners are becoming comfortable with their existing square footage and focused on maximizing functionality of the space available, rather than creating more space.

Fancy elaborate materials and designs.

Fancy kitchens and larger homes.

Fear of losing their job.

Fewer people looking for "the cheap fix."

Fewer people are doing large scale remodeling projects… kitchens and baths are predominant.

Forced upgrades in order to sell a primary residence that is under water.

Formal areas, large yards, oversized spaces.

Formal dining.

Formal dining rooms.

Formal dining rooms and whirlpool tubs are less important to customers. Features that don't get a lot of use.

Formal spaces.

Formality, room for "show".

Frills, bells, and whistles.

Golf.

Granite countertops. Going to quartz or high-def laminate.

Green.

Green.

Green building is becoming less important.

Green just because it is trendy, except for solar , which doesn't always have the impact on savings they are expecting.

Green or energy efficient items. Price is everything.

Green remodeling. Just has not caught on here yet.

High end renovations more pull and replace.

Keeping up with the Jones- More important to enjoy family and friends at home. Less eating out more home entertainment.

Large activity rooms. Large spa bath tubs.

Large additions and costly projects over $200K.

Large homes over 2500 sq ft. People are going for smaller with more amenities.

Large, over-amenitized homes.

Lavish spending.

Less carpeting in their homes, high end appliances.

Less interest in green….people want value and quality, being green to be green seems to not be as important???

Less interested in "luxury" items.

Less price conscience.

Luxuries.

Media rooms, bathtubs.

Moving to a different house.

Nice homes on acreage still have demand, but customers are less willing to drive a long ways to get it.

One-call close, getting project scheduled ASAP, willing to wait for quality.

Over the top items.

Overall price.

Paying for green certifications.

People are foregoing luxury but not wanting to give up quality.

Plastic laminate countertops.

Price only buyers are getting less and less.

Price per square foot.

Print marketing.

Quality.

Quality.

Resale value.

Sales presentations that explain the justification of any price point. Customers are more and more very impatient with any sort of sales presentation. "Give me the price and get out of my house".

Size.

Size of home.

Size of home, no longer building the home to handle the family reunion.

Size of yard.

Some of the "bells and whistles".

Status driven choices.

Sunrooms and Basement remodels. Both can be construed as need products for adding more living space, but for the costs, no one (right now) is willing to part with that much cash (because the lending companies aren't loaning this much money for homeowners any longer).

The "formal" areas are becoming less important i.e. formal living and dining.

The square footage of additions is getting smaller.

The type of materials used.

There is less demand for expensive products like commercial kitchen appliances, custom bath showers, and custom cabinetry.

There is less emphasis on 'green' products.

Top of the line kitchen and bath fixtures.

Total focus on price for larger projects.

Trophy kitchens, easy money remodels.

Unfortunately, green initiatives.

Using big name remodeling agencies with high priced fees. Previously (before the recession) going with a "name" was equally important as a price. That is no longer the case. Customers want better value, even for architectural plan development, design services, etc.

Using cheap or discounted builders. They see the compromise in quality.

Value. They are more willing to purchase based on price than value, quality and service.

Very large spaces.
What trends do you see emerging among your customer preferences?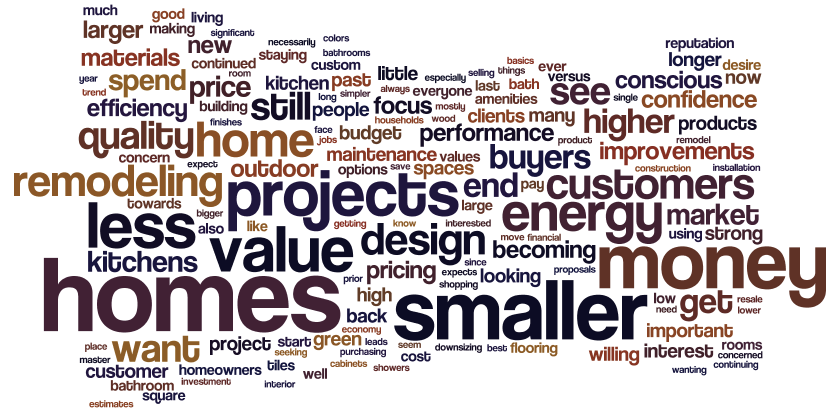 A little more confidence.

Additions – people staying in homes – ready to invest in home.

Aging in place.

All markets require speed and accuracy anything less is deemed a let down.

Based on the current market, all homeowners buyers feel its their market and should be able to obtain all their wants with little payout.

Bathroom remodels are up over previous three years.

Becoming more budget conscious. Making sure they are getting what they are looking for. Being more proactive in B2B dealings. Focusing on their core values or things that have made them successful in the past.

Cautious optimism regarding financial outlook.

Clients are doing only what is necessary and foregoing many of the extras since they are spending their own money. People are more concerned about resale value than they have been in the past.

Clients are more interested in timeless design, than the latest and greatest. Tendency is to neutral colors for potential resale, if the real estate market improves.

Clients are seeking the best value for their investments in their homes. In kitchen and bath remodeling, buyers are still cutting back on the scope of the project, purchasing less expensive products and demanding lower prices on everything. On the positive side, we have seen a marked increase in both leads and more prospective buyers readiness to start considering doing the larger size projects that were put off in 2008 to 2011.

Comfort spending more money on their homes. Also I expect to see more leads coming from new home buyers.

Confidence; I see consumer confidence much improved this far in 2012.

Continued focus on customer engagement with marketing tools. Face to face customer interaction to support web introduction.

Continued move towards downsizing w maximize space utilization…. performance sports car homes….

Continuing to want more but pay less.

Customers are in a hurry and eager to start homes soon.

Customers are more in tune with pricing. They are doing more value shopping.

Customers are preparing to do remodeling, but are extremely price conscious.

Customers are seeking proposals from more contractors than ever, and often do not know how to compare/contrast the proposals once they gather them. This makes it more important than ever before to start building a relationship with them at the first appointment.

Customers continue to desire quality, but are challenging the pricing model. Kitchens are still the driving force behind most of our projects.

Customers depend on word of mouth and company reviews from various websites.

Customers expect to receive numerous concessions. If you aren't offering big incentives, you aren't selling homes.

Customers want good value for money and seem to be willing to pay a little more to get it more so now than in the recent past 12 to 18 months.

Darker colors for fiber-cement siding; Larger tiles and rectangular large tiles for bathroom design; Accent tiles using significant amounts of glass tile rather than a narrow liner; Wood interior windows primed white prior to installation, and oversize casings to go along with the new installation; Kitchens with dark hardwood flooring and lighter maple cabinets; Radiant floor heat; Curbless shower stalls.

Doing more on-line research and becoming more savvy with reputation mgmt.

Downsizing into a smaller custom home while keeping the same high end amenities as well as implementing "Green" technology.

Durability, value for the dollar.

Energy efficiency improvements, higher end scaled back projects.

Energy Efficiency will always be on homeowners minds especially with the rise in home fuel costs. I've been hearing Kitchen remodeling is staying strong, even though this is more of a "want" product.

Everyone expects a Bargain. Simpler less complex and ostentatious designs and materials. More back to basics with a focus on simpler lifestyles and energy efficiency, but not necessarily green or LEED.

Everyone expects more for less. Shopping harder and slower to commit. Functionality key driver.

Fewer tub replacements. More large showers.

Flex rooms, multipurpose rooms, with designs to easily accommodate many scenarios.

Focus on kitchens and master bathrooms, as well a significant number of new construction starts in the area.

Getting more for their money. Money is tight so they want to get more for less.

Good value, ease of maintenance, focus on energy savings, and strong preference for good design guidance. Willing to price shop on smaller projects.

Green Design, Universal Design (for multi-generational homes and building for old age); customers want better value for their money and are more interested in "doing it right" as opposed to just "doing it".

Higher budgets for projects. Somewhat higher urgency.

Higher end remodeling.

I see a continued emphasis on maintenance free for any exterior work, and I continue to see the elimination of bathtubs in favor of large walk-in showers.

I see the patio room market growing. I also see them having a bigger lean towards the companies reputation. Price is always a concern.

I'm currently pricing larger jobs than those in the last year or so.

I'm seeing increased hesitancy to spend money.

In the summer time home improvement becomes very popular.

Internet inquiries, single source project management.

Investing in their homes, waiting for the market to improve, and doing improvements they can enjoy.

It has already emerged, but we see a ton of hesitation, research, price comparing, discount expectations… before making a commitment… We see this trend continuing and strengthening.

Items such as blinds, wood flooring, irrigation systems, storm shelters, fencing are becoming more of a buyers desire to have included in their package and not considered as upgrades.

Kitchens, bath, finished basements with quality and value, backing.

Larger homes in the best locations are selling well. The small house trend was limited, especially with the qualification challenges for first-time buyers. Outdoor living is also becoming more important.

Long lasting quality is important.

Longer buying cycle.

Longer term ownership, Energy performance, Focus on quality and sustainability.

Looking for sensible design and more functional homes. Less over the top design, more contemporary design.

Low maintenance.

Low prices.

Low-to-moderate income households AND upper-end households are the market. The middle is suffering.

Master suites and kitchens with lower end cabinets but higher end appliances.

More budget consciousness and bargain hunting Custom homes not appraising as high as cost to build them Occasional attempts to save money by homeowners acting as own GC.

More choice and options to personalize home. More materials, mainly flooring, cabinet, and counter surfaces.

More concern with quality.

More concerned with long term value.

More confidence that the economy is turning around and willing to spend more money than in the past on remodeling.

More confidence to move forward now.

More conscious of price versus value versus home values and neighborhood home values.

More cost conscious. Clients are looking more at they entire cost picture including durability, energy efficiency and maintenance.

More custom elements. The buyers who are building are adding many bells and whistles.

More energy efficiency, a SLIGHT decrease in square footage.

More Facebook, Twitter and blogging.

More for less money higher end finishes.

More interest in "going green", energy conservation, more product performance for the money.

More modest project then 2007.

More towards bidding versus Design-build. But we sell them on D-B with us.

Multiple rounds of bidding and stalls before beginning construction.

Need for design. They get many bids.

No formal dining rooms; open spaces; trade less square footage for greater amenities.

No new trends – they are holding off on decisions until the last minute.

No thrills, back to basics and necessities.

Open areas.

Options, everyone wants options. More pricing alternatives. How to save money.

Out door living.

Outdoor kitchens, energy upgrades/efficiency, solar, mostly people finally remodeling homes they know they can never sell.

Outdoor living spaces, smaller homes with less formal amenities.

People are starting to spend money again on things that they don't necessarily have to.

Practical Applications. Extravagances not so much. General improvements, but not looking at remodeling as an investment any more.

Price.

Protecting their investment in their homes and buildings.

Quality performance.

Remodeling jobs are becoming smaller, using cash vs. borrowing money.

Smaller budget , use of interior designer is more accepted.

Smaller homes.

Smaller homes single story.

Smaller homes that are still high quality.

Smaller homes, more budget conscious.

Smaller homes.

Smaller projects.

Smaller projects.

Smaller projects like bathrooms. Outdoor projects like new entryways.

Smaller spaces with higher quality finishes. Finishing attic spaces, Interest in alternative wall surface materials.

Smaller, smaller projects.

Starting to do larger projects again – 50K and up.

Staying in present homes longer and seem a little more willing to spend money on improvements. I get the impression they have paid off debt and now have some money to spend on home improvements.

Still strong interest in doing projects under $100K which are mostly kitchens/baths. Some renewed interest in additions.

Still very conservative in selecting materials. Less demand for very high end products.

Still watching the bottom line on project costs. Deals are taking longer of close, since the customer is still struggling on whether to spend what is required to complete the job. Energy performance is a strong point.

Stronger desire for aging in place remodeling.

The expectation of a deal is still fairly prevalent . Most remodel work is kitchen , bath, outdoor room.

The more features the home has the more the customer is attracted to it, even if it is $10 or more a square foot.

The need for financing.

They appear more tentative in decision making… pricing a bigger concern than in prior years.

They are not complaining as much about the economy.

They like payment plans more.

They want more choices/control.

They want to pay less and get more.

This is very difficult to answer, lead quantity is very low, but the ones that to respond are in the buying phase.

Upgraded products.

Used to get 3 estimates. Now they get 5-7 estimates.

Using value priced finish materials.

Value.

Value engineering is more important than ever. In addition, builder reputation and financial stability are crucial.

Want the whole world for less.

Wanting more energy efficient products.

Wanting to do more themselves. Purchasing foreclosed homes to remodel.

We are noticing a shift to more kitchen renovations than last year, when smaller bathroom projects tended to dominate.
Additional Comments
2011 was our top gross sales year ever and we expect to break that record in 2012 and then break 2012's record in 2013.

All will be well for 2012.

Business has improved recently, and stabilized at slightly higher levels. We anticipate the market to remain the same, but our penetration of the market to improve.

Cautiously optimistic that we have turned the corner. While we have more leads, more design retainers and more production in backlog than we have seen in years, the jobs continue to be smaller than pre-recession and homeowners continue to focus on cost as a primary concern with respect to every type of project. We have adapted to this new environment and anticipate that it will continue to be the norm for the foreseeable future.

GuildQuality is an important part of our 'end' marketing when the remodeling project is competed. Kodak picture book, post construction walk through with design and production, flowers, and GuildQuality.

I feel very confident that this is going to be the best year the company has had since the year 2007. We incorporated and made our first sales in the year 2000. 2007 was our strongest sales year. Years previous to 2007 built up like a bell curve, and fell off pretty quickly beginning in 2008. My goal, hope, and desire is to have our second best year in 2012 and our best sales year EVER in 2013.

Our business started out great in 2012 compared to the last three years even though during that time our sales held steady. At the current rate our 2012 should be much improved.

Overall, consumer optimism seems to be growing.

People in the past few years have been looking for deals, now that inventory in our market is at historic lows people are anxious to move on deals. Have not had this many prospects in some time. We are one notch above cautiously optimistic.

Ron Paul 2012!

The market is still soft overall. We are seeing more interest now do to spring and home show season. It is much too early to understand the total implications of the market driven changes we are seeing.

This is not a time to wait for things to get better. Its a time for many changes in how we approach our clients.

Fire some clients- this is important, they are not a good fit and will not be profitable. Know what your overhead is and decide how much mark up you need to make a profit. This is not a time to cut prices, you will put yourself out of business. Increase where you can to compensate for other places.

This will be a "step-up" year for our business and we're working very hard in all areas, financial, marketing, operations, and infrastructure to get ready for the upturn when it occurs.

Very cautious market. Projects that are ready to go are delayed due to uncertainty.

We are really trying hard to be very responsive to our Customers and Prospects, respond to them as quickly and professionally as possible with every inquiry or request and to treat every inquiry – big or small – as though it is the most important request we have received this year. Bottom Line: We are taking our Customer Service levels up to sustained levels across the board, higher than we have before. In short, it is our intention to become our Customers' Remodeler for Life!

We encourage everyone to vote this year for the party that will reduce regulations imposed on business that increase our costs. We want smaller government and less regulation. In other words leave us alone and small business will fix the economy. We also encourage our government to drill for oil/gas now, and balance our national budget now.

We so appreciate GuildQuality, every opportunity we have we mention GuildQuality to our potential and current clients as well as just general people.
What's your recommendation rate with your customers?
Find out
Start surveying