Filter page content
Currently viewing by
Product Full
:
Erie Construction Midwest Inc
For over 30 years, Erie Construction has delivered quality home remodeling products to over 100,000 customers. Years of experience, reliability, and customer service; it just doesn't get simpler than that. More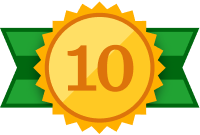 10 Consecutive Great Reviews
Feedback
What is this?
What is this?
GuildQuality customer satisfaction surveys enable homeowners to rate their contractor on a scale of zero to four (with zero being the worst and four being the best) in all sorts of categories. Our members can publish a summary of those answers here on their profile page, displaying a bar for as many or as few questions as they like. The score for each category indicates the percentage of survey respondents who answered a three or four to that particular question.
Of 7,351 customers surveyed, 4,768 responded (65%)
Comments
What is this?
What is this?
We display two types of written homeowner feedback on GuildQuality member profile pages: Comments and Reviews.
Comments
In response to our customer satisfaction surveys, homeowners share lots of comments about construction quality, communication, or any other question asked in the survey. Guildmembers can selectively publish these comments here on their profile page.
Reviews
Reviews are different than comments. These are star ratings that homeowners ask us to publish, and they come with a written description of the type of experience they had working with their contractor. We publish all of the reviews we receive: positive and negative alike.
View all
More Comments
GuildQuality
ENERGY STAR
EPA Lead-Safe Certified Firm
National Fenestration Rating Council
National Roofing Contractors Association
More about Erie Construction Midwest Inc
As a GuildQuality Guildmember, Erie Construction Midwest Inc relies on our customer surveying to help them deliver an exceptional customer experience.
We have surveyed customers on behalf of Erie Construction Midwest Inc in Toledo, OH; Rochester, NY; Saginaw, MI; Cincinnati, OH; Dayton, OH; Battle Creek, MI; Huber Heights, OH; Springfield, OH; Grand Rapids, MI; Jackson, MI; and 1867 other cities in Ohio, Michigan, Missouri, Illinois, Pennsylvania, and 16 other states.
In this report, Erie Construction Midwest Inc has published a summary of the customer feedback they've received since they joined GuildQuality in September 2011. In that time, 4,768 out of 7,351 customers (65%) responded to a GuildQuality satisfaction survey, with the most recent response in February 2016.