Boardwalk Builders
37395 Martin St
⋅
Rehoboth Beach
,
DE
19971
⋅
(302) 227-5754
Company History
Founded in Rehoboth Beach, Delaware in 1986, Boardwalk Builders has earned a reputation for excellence and is recognized as one of the premier remodelers and custom home builders along the Delaware Shore. President Patty McDaniel became the sole owner of the company in 1995, and under her direction the company has grown considerably, due largely in part to her dedication to the highest-quality service, standards and workmanship. As a result of McDaniel's commitment to total quality management practices and processes, Boardwalk Builders was awarded the 2004 National Housing Quality Silver Award for Excellence in Remodeling. (more)
---
Customer Feedback Summary
Of 47 customers surveyed, 30 responded (64%)
Employees & Subcontractors
---
Reviews & Comments
---
Review by

Kathleen N.

of Rehoboth Beach, DE

Jan 06, 2015

I recommend Boardwalk Builders highly! They met with us before, during, and after! Communication was fabulous! All involved were courteous, professional, and skilled! Thank you for a job well done!

Boardwalk Builders

Review by J.P.L. of Lewes, DE

Nov 15, 2014

I was pleased with their professionalism, punctuality, integrity, their respect for our property, and their detail in work. They were an absolute pleasure to work with. They left the work site clean and their entire manner of ethics was a pleasure. I can't speak highly enough about them.

Boardwalk Builders

Review by Larry J. of Seaford, DE

Nov 10, 2014

Our experience with Boardwalk Builders and the entire staff reflects a top down management effort to insure the integrity of work. Numerous repairs to homes by Boardwalk has shown the companies clear understanding of the homes and how to improve the repairs to upgrade the homes. Problems found were not overlooked but brought to my attention, or repaired in the course of doing business and I was advised. Can't ask for any better company to place our homes in the care of. Thanks Boardwalk.

Boardwalk Builders

Review by Marianne B. of Rehoboth Beach, DE

Nov 06, 2014

Patty: This is so coincidental. I mailed you a review this morning with the mail. You will get it tomorrow and please feel free to use it. Marianne Boehlert

Boardwalk Builders

Review by Ann E. of Rehoboth Beach, DE

Jul 15, 2014

I am so thankful for Patty's experience and expertise. Communication was excellent and their understanding of my budget and timeline for the rental property was appreciated. Thank you

Boardwalk Builders

Review by Robert G. of Georgetown, DE

Feb 04, 2014

The finished bath is everything we had hoped it would be. When we first met, Patty McDaniel, owner and founder of Boardwalk Builders, asked what was most important to me regarding the project. I responded, "quality workmanship." She certainly gave us that. Patty's lead carpenter, Ed, supervised the work. his concern and coordination efforts have been fantastic throughout the project. When the framing and rough plumbing were completed, I was certain we would get what we expected. And then it got better. The trey ceiling; custom vanity; tile and granite work; painting, lighting and glass are perfect. These features and Boardwalk's craftsmanship gave us the simple but elegant bathroom we envisioned. Bob Grasso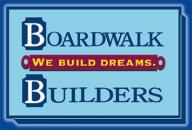 Types of Work
Custom home (53)
Historic restoration (53)
Kitchen remodel (2)
Bathroom remodel (1)
Deck (1)
Storm damage restoration (1)
Recent Activity
1/12/15 Boardwalk Builders received feedback from a customer in Rehoboth, DE.
1/11/15 Boardwalk Builders received feedback from a customer in Rehoboth Beach, DE.
1/08/15 Boardwalk Builders received feedback from a customer in Rehoboth Beach, DE.
1/06/15 Boardwalk Builders received feedback from a customer in Rehoboth Beach, DE.
11/16/14 Boardwalk Builders received feedback from a customer in Rehoboth Beach, DE.
More about Boardwalk Builders
As a GuildQuality Guildmember, Boardwalk Builders relies on our customer surveying to help them deliver an exceptional customer experience.
We have surveyed customers on behalf of Boardwalk Builders in Rehoboth Beach, DE; Lewes, DE; Bethany Beach, DE; Seaford, DE; Ocean View, DE; Rehoboth, DE; Re, DE; Slaughter Beach, DE; Milton, DE; Dagsboro, DE; and 2 other cities in Delaware.
In this report, Boardwalk Builders has published a summary of the customer feedback they've received in the past 12 months. In that time, 30 out of 47 customers (64%) responded to a GuildQuality satisfaction survey, with the most recent response in January 2015.
Boardwalk Builders surveys all of their customers with the following exceptions:
Customers receive a brief survey shortly after the completion of work, and their feedback appears in the summary on this page.
If you are a Boardwalk Builders customer, if your project doesn't match the above exceptions, and if Boardwalk Builders completed work for you after January of 2014 but you haven't yet received a survey, please let us know.
2015 Guildmaster Application
Boardwalk Builders is a candidate for a 2015 Guildmaster Award. The Guildmaster Awards recognize exemplary service among home builders, remodelers, developers, and home services contractors. Click here to review this year's qualifications.

To be eligible for consideration, Boardwalk Builders must survey all of their customers, with the following exceptions: Projects under $10,000.

If you are a recent customer of Boardwalk Builders and have not yet received a customer satisfaction survey, please let us know. We need your feedback in order to conduct a thorough review of Boardwalk Builders's application.